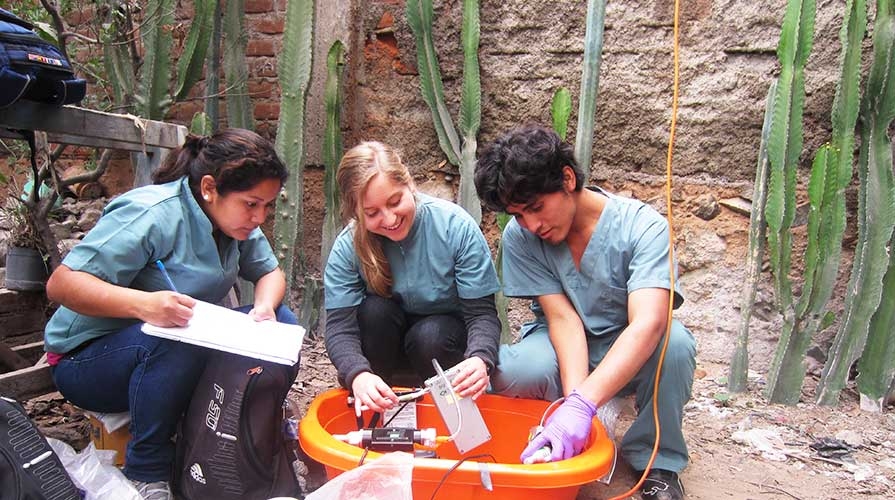 Generously funded by the Joseph Edward Richter trust, which maintains the Paul K. and Evalyn E. Cook Richter Memorial Fund, Oxy students have the opportunity to devise international projects of scholarly merit that promote cross-cultural engagement.
Students design and research topics from environmental impact on asthma in Peru, to healthcare delivery to the underserved in Ecuador, to history and self-denoted Identity in Morocco. Faculty-led Richter Research projects launched in Summer 2019 with research expeditions in Mexico, Jamaica and Iceland.
Proposals are developed by the student in close collaboration with an Oxy faculty supervisor. Successful candidates are fully funded to do research for eight to ten weeks over the summer. While abroad, recipients work full time on their project. Upon return to College, students present their projects to the Occidental community at the Undergraduate Research Conference held in the summer.
Research abroad scholars have successfully presented their projects at conferences and have utilized their work for senior comprehensive projects. Many Richter scholars successfully pursue graduate fellowships and graduate degrees overseas.
Explore a diversity of Richter Research Abroad opportunities
Oxy offers three unique options for Richter research abroad that can meet a range of students' needs and interests. Projects could include sustainable development research in select countries, laboratory research at the Chinese University of Hong Kong, or independent research in a variety of countries around the world. Learn more about each of these distinctive tracks and find one that meets your goals for research abroad.
Several information sessions are offered each fall semester. 
Richter Research Tracks
Special Funding for Summer 2023
Community-Based Research (Currently on hold until further notice)
University-Facilitated Research (Currently on hold until further notice)
Independent Research (Currently on hold until further notice)
I gained many valuable skills and insights conducting research in the Caribbean. I cannot emphasize enough how much this experience meant to me; it firmly solidified my stance as a scientist, reaffirming my passion for research and fieldwork, and is a fantastic stepping stone on my path to entering a Ph.D. program in biological oceanography. By facilitating international undergraduate research, the Richter Trust lays a framework that provides students with invaluable experiences conducting research.

—Morgan Bennett-Smith '17, Richter Scholar