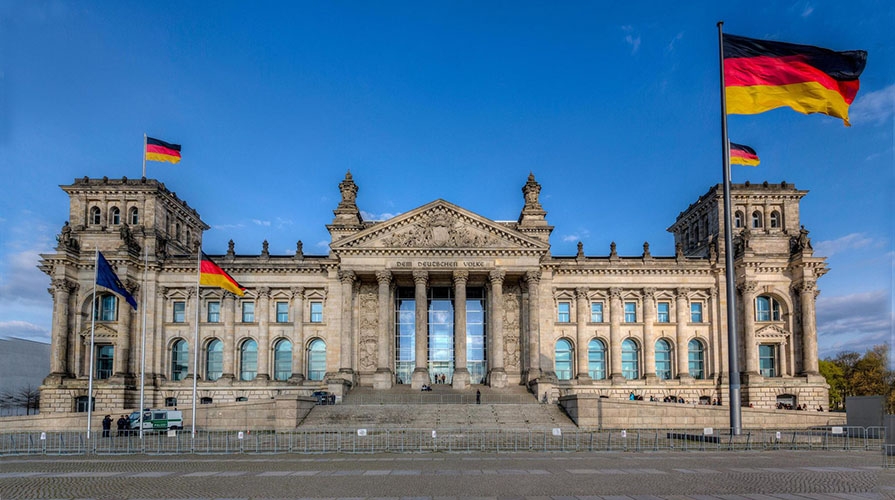 Enroll in ECON 312 Political Economy of Sustainable Development: Case of Germany this Spring 2023 and earn 4 units, which can count towards the Regional Focus (RF) requirement of the Core program. The field study component for this course will take place over summer break in Germany, May 30 - June 17, 2023.
Program Description
Germany has emerged as one of the world leaders in sustainability and innovation since the end of WWII. How has the political economy of Germany shaped its role in sustainability in Europe and in the world? With the new "traffic light" coalition, would an increasingly popular Green Party accelerate actions towards sustainable development goals in Germany, or will these actions be hampered by the Free Democrats? The course meets first as an on-campus seminar to introduce you to the political and economic structures as well as the major environmental and sustainability debates in Germany. We will then spend three weeks traveling across Germany to learn in the field, including a visit to the German Parliament (Bundestag), where the course instructor once interned.  
Course Outcomes
Students in this course will develop a basic understanding of the modern German political and economic structures with a focus of post-war economics and politics. Using political-economic models and case studies from the pre-departure lectures and in-country site visits, students will recognize and explain the key features of German environmental and energy policy. Students will gain an understanding of the complex interactions between the economy, political institutions, and social tensions surrounding issues of reunification, migration, integration, and identity. Finally, students will be able to analyze a sustainability challenge in economic terms and propose a set of well-considered and balanced recommendations or solutions in the German context.
Faculty
Professor Wong earned a B.S. in Environmental Science and Policy and a B.A. in Germanic Studies and is fluent in German. He completed his M.A., M.Phil., and Ph.D. in Sustainable Development at Columbia University and a postdoc at the London School of Economics prior to joining Oxy. He studied abroad at the University of Tübingen (three months) and Leuphana University of Lüneburg (Academic Year) where he was a German Academic Exchange Service (DAAD) Undergraduate Scholar. He holds the Goethe Institute Großes Deutsches Sprachdiplom and the NYU Deutsches Haus Certificate C2, thehighest certified level of German proficiency in the Common European Framework of Reference for Languages. He was one of 8 International Parliamentary Fellows selected to represent the U.S. at the German Parliament for five months in 2018. In 2013, Professor Wong has participated in the German Federal Environmental Agency European Resources Forum and in "Contemporary Carlowitz," a sustainability politics forum organized by the German Council for Sustainable Development and theBertelsmann Foundation. In addition to demonstrated fluency in German, Professor Wong is passionate about foreign language pedagogy and linguistics. He completed a Dual Certificate in Teaching English and Chinese to Speakers of Other Languages (TESOL/TCSOL) jointly offered by Teachers College, Columbia University and the Beijing Language and Culture University.
Itinerary
Program logistics (flights, etc.) will be discussed in the first week of class in Spring 2023. View a sample itinerary here.
Participants
The course is limited to 20 students. Students are admitted by application. Preference given to (1) students who have taken courses with Professor Wong; (2) declared ECON majors; (3) students with experience with the German language; (4) students with demonstrated interest in international political economy, European politics, or German Studies (e.g. having taken DWA 239, CSLC/GRLG double majors, etc.); (5) students with limited opportunities for an abroad experience at Oxy.
Requirements
Prerequisite: ECON 102 
Recommended Co- or Pre-requisites: GERM 101 or higher, DWA 103 or higher 
Core: This course fulfills the Regional Focus (RF) requirement of the Core program.
Students will normally be expected to stand and move around for 6 hours per day including walking up-hill or slopes, stair climbing, walking on uneven pavement, and in forested environments. Students are expected to carry their own luggage as part of inter-city rail and bus travel. Students may be invited to interview before admission to the program. Note that depending on student interest, we may not be able to admit all those interested and qualified.
Information Session
Come to an info session to talk to the Professor & the IPO staff about the program:
Tuesday, September  20, 2022, 3:00 to 4:00 pm in ( Fowler 202  )
Friday, September 30, 2022 12:00 to 1:00 pm in (Johnson Student Center, Bengal Rm)
Estimated Cost $6,080*
$4,290 charged to the student account (all course-related travel within Germany, some meals, museum entrances, academic resources, etc.)
$1,790 additional out-of-pocket expenses ESTIMATES (international airfare $1,000, additional meals $730, $60 sim card fees)
*This is an estimated cost and is subject to change.
Financial Aid

The total additional cost ($6,080) will be included in Financial Aid calculations for Spring 2023. A Financial Aid officer will determine how your package may be adjusted depending on your need. Please contact the Financial Aid Office with further questions.
Deadline to Apply
October 7th, 2022, by 4 PM