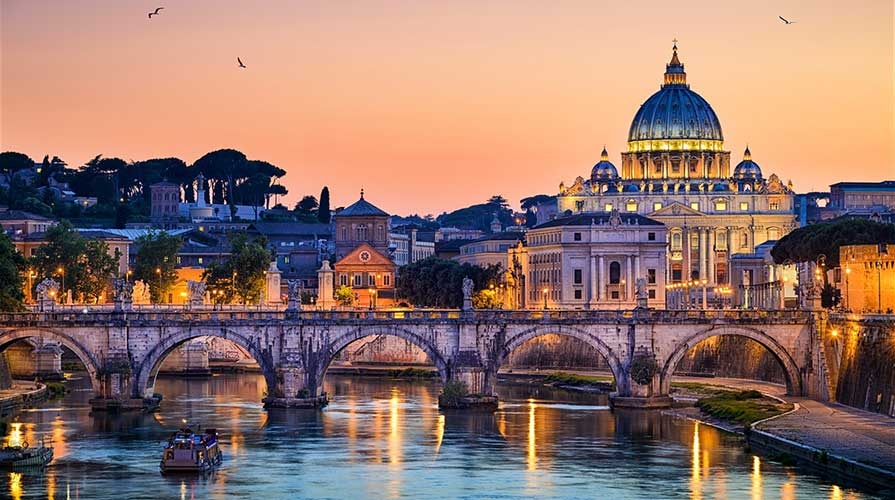 Enroll in ArtH 373 Michelangelo: Art and Biography this Fall 2019 and earn 4 credits which can count as a Pre-1800 or Fine Arts core course! The field study component for this course will take place over winter break in Italy, January 2-16, 2020.
Program Description
This course is designed as an introduction to the life and work of Michelangelo Buonarroti (1475-1564). We will investigate his painting, sculpture and architecture, while considering its context within the major urban cultural centers in which he worked: Florence and Rome.  The course will proceed chronologically, but will vary from week to week, including relevant themes and methodological approaches to the career of arguably the most influential of all Renaissance artists.
Among the topics the course will examine: development and dissolution of a classical vocabulary; relationships between style and technique; art, biography and self promotion; the relationship between Christianity and sexuality for Michelangelo and the Cinquecento; patronage and context in Florence and Rome; the development of classical form; meaning and controversy in the cleaned Sistine Chapel Ceiling.
Almost every work of art (painting, sculpture, and architecture) produced by Michelangelo can be seen by visiting Florence, Siena and Rome. In addition to the crucial visuals, the keys to understanding Michelangelo's art and the tradition that it evolves from are best understood on site. On the course syllabus, the in-country site visits are indicated and correlated to the weekly course themes/assignments. 
Course Outcomes
Students in this course should have a good understanding of the relationship between the cultural, political and artistic context that Michelangelo was a part of and how this affected his art. Changing geographic locations and differences in patronage also should be understood throughout this course. In addition, how Michelangelo's visual expression is related to his poetry should be clear.  The evolution of his style from about 1480 until his death is 1564 is another course outcome. Finally, the role that Vasari's writing has in establishing Michelangelo's reputation, should be understood. 
Faculty Leader
Professor Eric Frank, Department of Art and Art History, will lead the Michelangelo: Art and Biography program. An expert in the art and architecture of the Italian Renaissance and he has been professionally engaged with this subject matter as a scholar and as a teacher for 30 years. Professor Frank was a Fellow of the American Academy in Rome, and lived in Italy (split evenly between Florence and Rome) for 10 years. He received the Tod and Linda White Teaching Prize in 2016. This is his fourth time leading this program at Occidental.
Itinerary
Program logistics (flights, etc.) will be discussed in the first week of class in Fall 2019. View a detailed itinerary for January 2020.
Participants
16-18 students, 1 faculty instructor (Professor Frank, Art and Art History), and support services from IES. IES-Abroad, is a not-for-profit educational organization with six decades of experience (3 decades with Oxy). IES is one of the oldest, most reputable, high quality organizations in the field. It offers comprehensive custom design services. They are leaders in risk management, legal conduct of study abroad programming and have verified insurance and lawful practices. They provide 24-7 crisis response. IES will handle all the in-country logistics and expenses (lodging, transportation, museum visits, classroom access at their centers), releasing the instructor to focus attention on teaching and the student learning experience.
Requirements
Although an art history major is not a requirement, participants will be required to have previous experience in art history at Oxy, and preferably with pre-1800 Europe subject matter. Preference will be given to students who have previously taken a course with Professor Frank. Students will normally be expected to stand and move around for 5 hours per day including walking up-hill, stair climbing, walking on uneven pavement. Average temperatures in January are 45 - 55 degrees.
Information Session
Come to an info session to talk to the Professor & the IPO staff about the program:
Thursday, January 31, 2019, 4:30-5:30 pm in Weingart 117
Wednesday, February 6, 2019, noon-1 pm in Weingart 117
Estimated Cost $5,653
$3,753 charged to the student account (all course-related travel within Italy, some meals, museum entrances, academic resources, etc.)
$1,900 additional out-of-pocket expenses ESTIMATES (international airfare $1,200, additional meals $550, $150 mandatory fees)
Financial Aid
The total additional cost ($5,653) will be included in Financial Aid calculations for Fall semester 2019. A Financial Aid officer will to determine how your package may be adjusted depending upon your need. Please contact the Financial Aid Office with further questions.
Deadline to apply is March 8, 2019, by 4 pm