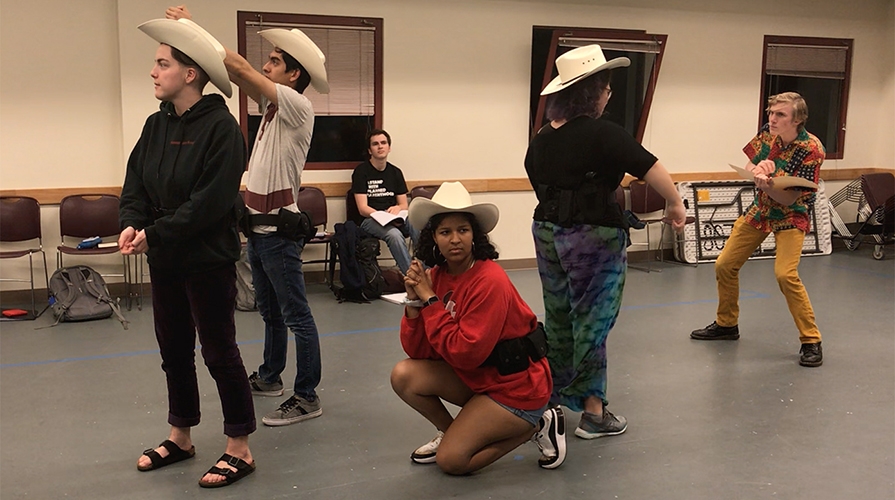 Like so many other colleges, universities, and theaters, Oxy cancelled its spring productions and we deeply feel the disappoinment of our students, faculty, staff, and community. Sarah Kozinn's new play, Statute 21.06: Homosexual Conduct, was set to open on March 27, 2020 at Oxy Arts on York Boulevard. Because we could not mount a live performance Sarah, Graham, cast, and crew created an audio version of the play which we'd like to share with you.
Content Notice: This play includes strong language and violence.
---
The Audio Play
When we cast the play in late January, we could not have predicted its culmination in an audio play. In fact, all the work we'd been doing in rehearsal relied on physical presence, especially because our cast of 10 actors were each tackling the challenge of playing multiple roles. Throughout rehearsal they developed dynamic physicalities and voices for each of their characters, and in addition to a dance number, we had choreographed the play to be staged using an alley configuration. The actors would be surrounded by the audience, bringing them into this intimate legal story.
This audio play cannot replicate or replace the work we did, but it does capture the moment in which the students recorded the play. Each student performed from their own remote locations. Some were in their parents' homes, while others were calling from inside their aunt's closet. Each actor's access to WIFI and technology was different. And so what you will hear is not a polished product. Even though we worked with a fabulous sound designer (Gahyae Ryu) tasked with making 11 people sound like they were in the same room, there will be voices fading in and out and you will hear variations in sound quality. When you hear these hiccups in sound, we hope that you will embrace them as part of the record of this unique moment, that it brings to mind the resilience of these actors who continued to show up under these extraordinary circumstances.
From the Artists