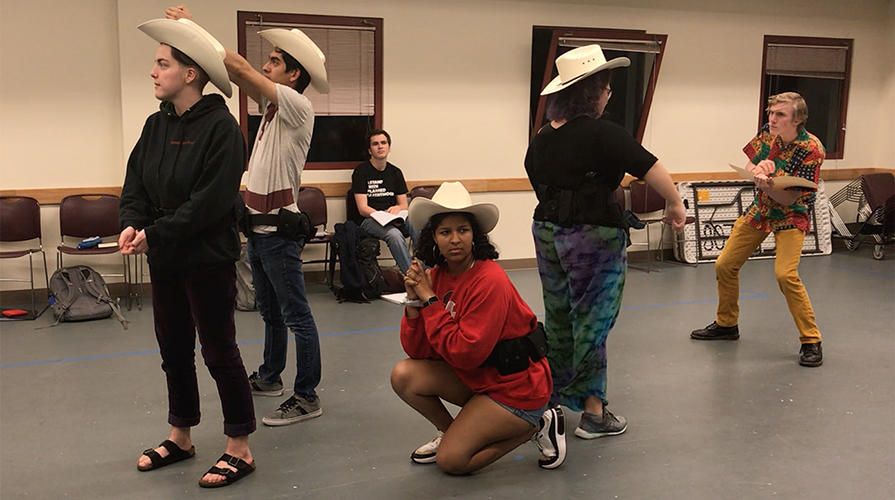 Like so many other colleges, universities, and theaters, Oxy cancelled its spring productions and we deeply feel the disappoinment of our students, faculty, staff, and community. Sarah Kozinn's new play, Statute 21.06: Homosexual Conduct, was set to open on March 27, 2020 at Oxy Arts on York Boulevard. Because we could not mount a live performance Sarah, Graham, cast, and crew created an audio version of the play which we'd like to share with you.
Content Notice: This play includes strong language and violence.

---
The Audio Play
When we cast the play in late January, we could not have predicted its culmination in an audio play. In fact, all the work we'd been doing in rehearsal relied on physical presence, especially because our cast of 10 actors were each tackling the challenge of playing multiple roles. Throughout rehearsal they developed dynamic physicalities and voices for each of their characters, and in addition to a dance number, we had choreographed the play to be staged using an alley configuration. The actors would be surrounded by the audience, bringing them into this intimate legal story.
This audio play cannot replicate or replace the work we did, but it does capture the moment in which the students recorded the play. Each student performed from their own remote locations. Some were in their parents' homes, while others were calling from inside their aunt's closet. Each actor's access to WIFI and technology was different. And so what you will hear is not a polished product. Even though we worked with a fabulous sound designer (Gahyae Ryu) tasked with making 11 people sound like they were in the same room, there will be voices fading in and out and you will hear variations in sound quality. When you hear these hiccups in sound, we hope that you will embrace them as part of the record of this unique moment, that it brings to mind the resilience of these actors who continued to show up under these extraordinary circumstances.
From the Artists
Playwright's Notes
Statute 21.06: Homosexual Conduct, named after Texas's Homosexual Conduct Law, was inspired by legal documents, testimony, interviews, and news footage surrounding the 2003 Supreme Court Case Lawrence v. Texas, but uses this evidence as a jumping off point. In this play I weave together found evidence with fiction to reinvigorate the story with the lives of the men whose arrest was used to contest the constitutionality of state sodomy laws. These men were essentially gagged throughout the 5 years of their journey from state court to the Supreme Court: The titular characters in the trial's drama, but with the fewest lines. The details of their lives outside of formal appearances are mere footnotes in the trial's history. In the play I try to resist their sidelining by centering them and the lawyers and activists who helped move the case from Texas to DC. My hope is that the play will present how fighting this case might have impacted these people's lives beyond the courtroom so that encounters with this legislation and legal ruling will make people wonder what else the archive excluded? In this way, theater becomes an additive, taking advantage of the wider circumference it forces onto the boundaries of the case's history.
In this version, 10 actors play over 30 roles inspired by news articles, interviews, and how we imagined them. They are all a manifestation of fact and fiction.
Dramaturg's Notes
The word "Friendship" was adopted as the Texas state motto by the Forty-first Texas Legislature in February 1930. 43 years later Chapter 21, Sec. 21.06 of the Texas Penal Code was adopted when the state revised its criminal code to end its proscription on heterosexual anal and oral intercourse. In a way, Texas had just become much less "friendly" to a certain group of people: couples that fell outside the heterosexual limits that the law now protected. The section stated that "(a) A person commits an offense if he engages in deviate sexual intercourse with another individual of the same sex. (b) An offense under this section is a Class C misdemeanor." This law, known as the homosexual conduct law, is still on the Texas lawbooks today but was overturned on a National level in 2003 by two men who didn't even know the law existed in the first place.
Police arrested John Lawrence and Tyrone Garner for engaging in "deviate sexual intercourse", a direct violation of statute 21.06, on the night of September 17, 1998. This night would go down in history as a deeply contested one. Despite never contesting the police allegations and public maintaining that they indeed had been caught in the act, years after the court proceedings they revealed that the cops may have made up the charges. All the same, the men were arrested and could have easily paid the fines for the Class C misdemeanor they were arrested under. They would have walked away from the case like so many people had done before under the veil of fear and shame. Lambda Legal, however, had been waiting desperately for a case like Lawrence that could challenge the privacy issues surrounding Texas's sodomy law.
Though Lambda Legal took up the case, Lawrence and Garner wouldn't have been their first choice. They were an interracial couple, with an noticeable age gap, barely reaching the middle class, and they weren't even truly a couple to begin with. John Lawrence was a white, medical technologist with a criminal record while Tyrone Garner was a black dishwasher, 24 years younger than Lawrence at the time of the arrest. The lawyers kept a close reign on the men, not allowing them to speak off script or make unchaperoned public appearances. The two men, private as they were, didn't add much of their perspectives to the narrative. Yet on June 26, 2003, five years after their arrest, the Supreme Court ruled in their favor.
The Lawrence v. Texas case is built on a history deeply rooted in morality, tradition, and people who dared to challenge the social code built on such. This continuous use of morality to back legality followed the movement of Lawrence v. Texas through the court system. Amicus briefs for the case show a wild array of moral arguments based in early colonial law that regulate sodomy under the protection of family and reproduction. These arguments would continue after Lawrence's supreme court decision. As Scalia's forboded in his dissent on the case, the legalization of gay marriage would come soon after and would have to overcome similar arguments to be won.
Use of ethics and morality to police marginalized persons isn't something contained to a dramaturgical past and is still present in courtrooms today. The work of theater like 21.06 is in its ability to demystify and humanize the court of law. Not much is written on Lawrence and Garner. Their voices were often muted by the lawyers they worked with. Their story hasn't been told. In a way this play is both fact and fiction. Kozinn and Smith have the sound bites and articles from the court proceedings but have gone beyond evidence to imagine what it might have been like for these men to be suddenly thrown into a national legal proceeding. With so little left behind from the men themselves, this story is not the whole picture but allows an audience to witness snapshots of the great sacrifices made by everyone involved.
Costume Design
For his senior comprehensive project, Kainan Short '20, designed costumes for this production. His beautiful designs include costumes for 10 actors playing over 30 roles that required quick changes with very little wing space. Kainan's design, like the show, never got to be seen in performance. Although this is not an equivalent substitute, we are showcasing his sophisticated design concepts and his artistic vision for their execution here. We hope you enjoy them online.
Costume Design
We wish to acknowledge all the hard work our students, faculty, staff, and guest artists put into our production.
Cast
Molly Kauffman - Suzanne Goldberg, Officer Landry, Justice Ginsburg
Jamie Potter - Officer Quinn, Bailiff, Justice Souter, Judge
Josiah Sheffie - Tyrone Garner, Paul Smith, Bully
Simran Fulton - Ruth Harlow, Officer Tipps, John Holmes, Judge Ross
Nicholas Reulbach - Mitchell Katine, Bully, Justice Breyer
Joaquin Madrid Larranaga - Jose, Officer Lilly, Nathan, Justice Rehnquist, Officer Judge Parrot, Bailiff, Judge
Thomas Sliskovich - John Lawrence
Ian McDougall - Angela Beavers, Bill Delmore, "Hispanic Man?", Mark, Chuck Rosenthal
Ethan Dulaney - Robert Eubanks
Sergio Perez - Lane
Jack Perry* -  Stage Directions
* guest artist
Crew
Written by Sarah Kozinn
Story & Directed by Sarah Kozinn and M. Graham Smith*
Original Music - Forrest Love and Naya Ramtahal
Intimacy Choreographer - Allison Bibicoff*
Production Manager - Andrew Lia
Sound Design and Engineering - Gahyae Ryu*
Costume Design - Kainan Short**
Light Design - Manny Rothman
Stage Manager - Jenna Fabris
Dramaturg - Asher Tessier**
Costume Shop Assistant - Sergio Perez
Wardrobe Supervisor - Kainan Short
Swing Wardrobe Supervisor - Indiana Lau
* guest artist
** This student's participation is in partial fulfillment of their senior comprehensive project. 
We'd like to extend a special thanks to everyone at Oxy Arts for their help with this production and for all of the work they do supporting the arts.