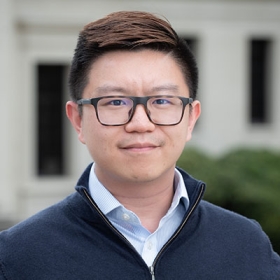 Assistant Professor, Economics
B.A., B.S., University of Maryland; M.A., M.Phil., Ph.D., Columbia University; Fellow, London School of Economics
Hours:
TR 1-2 (in person); W 4-5 (Zoom or in person by appointment), starting 2/1/22
Jason Wong is an applied microeconomist interested in using interdisciplinary approaches to answer questions related to sustainable development of infrastructure, cities, and regions.
His research focuses on the impact of aviation connectivity on regional economies and innovation, climate change impacts on aviation, electricity infrastructure and development in India, and economics of language and culture. Oxy Students work with Professor Wong in the Connectivity Impacts Lab.
Prior to joining Oxy, Professor Wong was LSE Fellow in Environmental Economics at the London School of Economics and Political Science and served as an International Parliamentary Fellow at the German Parliament (Bundestag). He is fluent in German, Cantonese, and Mandarin and is currently learning French and Japanese. At Oxy, he teaches Economics of Sustainable Development, Urban Economics, and Applied Econometrics.