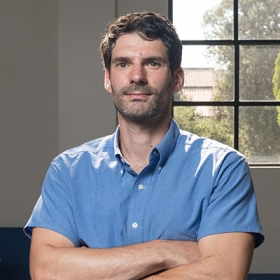 Associate Professor, Diplomacy and World Affairs
B.A., University of Washington; M.A., University of North Carolina, Chapel Hill; Ph.D., Cornell University
Phillip Ayoub's research bridges insights from international relations and comparative politics, engaging with literature on transnational politics, gender and politics, norm diffusion, and the study of social movements. Read his Oxy Story profile.
Alongside several articles, Ayoub is the author of When States Come Out: Europe's Sexual Minorities and the Politics of Visibility (Cambridge, 2016) and co-editor, with David Paternotte, of LGBT Activism and the Making of Europe (Palgrave, 2014).
In 2014, he was the recipient of the American Political Science Association's Human Rights and Politics & Sexuality section awards for Best Dissertation. The following year, he received the European Union Studies Association's biennial 2013-2014 award for Best Dissertation. He also received the 2014 Janice N. and Milton J. Esman Graduate Prize for distinguished scholarship (from Cornell University), the 2017 Best Article of the Year Award from the Council of European Studies' Gender and Sexuality Research Network, and the 2018 Provost Award for Outstanding Early-Career Scholarly Achievement (Drexel University).