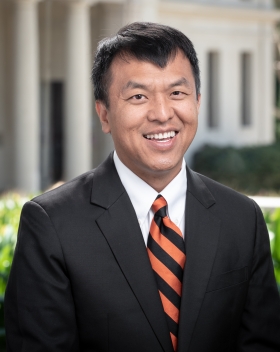 Associate Professor, Diplomacy & World Affairs
B.A. University of California, Berkeley; M.P.A. Princeton University; M.S., M.A., Ph.D., University of California, Berkeley
Hours:
M/W 4:30-5:30pm and by appt, all via email to setup a phone or video call.
Sophal Ear's research and teaching focuses on global political economy, security, and development, including how to rebuild countries after wars. He specializes on Southeast Asia and is a leading authority on Cambodia.
April 16, 2021 - Named Public Policy and Internationak Affairs (PPIA) Changemaker
May 23, 2019 - Awarded the 2019 Tobis Medal (previous winners have included President Barack Obama '83) by the Ethics Center at UC Irvine
June 27, 2016 - Received PPIA's Rev. Clementa C. Pinckney Achievement Award for Extraordinary Leadership in Public Service
March 26, 2015 - Selected for "40 Under 40: Professors Who Inspire"
Professor Ear joined Oxy in August 2014 after teaching political economy and post-conflict reconstruction at the U.S. Naval Postgraduate School and a post-doc in international development policy at the Maxwell School of Syracuse University. He has consulted for the World Bank, was Assistant Resident Representative for the United Nations Development Programme in East Timor, and Advisor to Cambodia's first private equity fund Leopard Capital. Prof. Ear was re-elected to a three-year term in November 2018 to the Crescenta Valley Town Council which encompasses an unincorporated area of 20,000 residents in Los Angeles County. A TED Fellow, Fulbright Specialist in Thailand (2010) and Cambodia (2014), former Term Member of the Council on Foreign Relations, and Young Global Leader of the World Economic Forum, he is Chair of Collective Education, Inc. (a California-based Delaware corporation), Co-Chair of the Governance Committee of Refugees International (Washington, DC), Audit Committee Chair of Partners for Development (Silver Spring, MD), Secretary of the Southeast Asia Development Program (Phnom Penh, Cambodia), Treasurer of the International Public Management Network (Washington, DC), and serves on the Boards of the Center for Khmer Studies (New York and Cambodia) and Omnibus Trading Corporation dba Chef's Corner Foods (California and Texas). Previously, he was Audit Committee Chair of the Nathan Cummings Foundation (New York, NY), Treasurer of the Southeast Asia Resource Action Center (Washington, DC), and Vice-Chair of Diagnostic Microbiology Development Program (Los Altos, CA, and Cambodia).
He also serves on the Boards of the Journal of International Relations and Development (Palgrave), the International Public Management Journal (Taylor & Francis), Journal of South-East Asian American Education & Advancement (Purdue University), and Politics and the Life Sciences (Cambridge University Press).  He is the author of Aid Dependence in Cambodia: How Foreign Assistance Undermines Democracy (Columbia University Press, 2013), co-author of The Hungry Dragon: How China's Resources Quest is Reshaping the World (Routledge, 2013), and co-editor of Virtual Issue 3 of Politics and the Life Sciences on Coronavirus: Politics, Economics, and Pandemics. He wrote and narrated the award-winning documentary film "The End/Beginning: Cambodia" (47 minutes, 2011, news blurb) based on his 2009 TED Talk and has appeared in four other documentaries. He is an Executive Producer of In the Life of Music (92 minutes, 2018) and Some of My Best Friends Are Kimchi: A True Documentary (Coming soon!). A graduate of Princeton and Berkeley, he moved to the United States at the age of 10 after seven years in France as a Cambodian refugee.