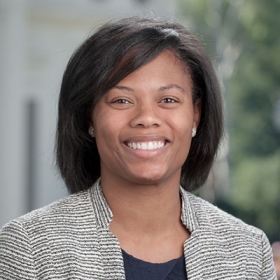 Assistant Professor, Art & Art History
B.A., University of Virginia; M.A., Ph.D. Pennsylvania State University
Kelema Lee Moses specializes in the history of architecture and urban design.
Kelema Lee Moses, Ph.D. is an assistant professor of architectural history at Occidental College. Her teaching and research combine historical perspectives with discussions about critical contemporary issues related to the built environment of the United States and its Pacific territories. Her current book project, Island Modernism/Island Urbanism: Encountering and Contesting U.S. Empire in the Pacific, argues that island cities offer a place-based perspective to urban studies that must account for spatial limitations; where architects and planners develop innovative approaches to balance economic interests, environmental issues, and Indigenous imperatives. She has published in Ardeth, The Avery Review, Platform,The Contemporary Pacific, eTropic: Journal of Studies in the Tropics, The Chicago Art Journal, The Oxford Encyclopedia of American Cultural and Intellectual History, and the edited volume Colonial Frames/Nationalist Histories: Imperial Legacies, Architecture and Modernity. Her work has been supported by a Getty/ACLS Postdoctoral Fellowship, the Andrew W. Mellon Foundation, National Endowment for the Humanities (NEH), the Society of Architectural Historians (SAH), and the East-West Center at the University of Hawai'i at Mānoa.
Courses
ARTH150 History of Urban Design
This introductory course examines how cities, suburbs, and metropolitan areas are designed and developed. We will explore historical episodes and actors that have influenced urban planning so that we may then consider the ways in which contemporary architects, developers, and institutions approach urban concerns related to land development, the environment, housing, and transportation.
ARTH256 Memory & Place in Post WWII Architecture
This course examines memory and forgetting in the context of the post-World War II period. It will consider how massive physical destruction necessitated the reconstruction of urban landscapes in Germany, France, England, Japan, and the United States. We will study urban redevelopment, in addition to architectural structures such as museums, memorials, and monuments, in order to discern how governments, societies, and individuals attempt to come to terms with the historical past. We will ask the following questions: What role do museums, memorials, and monuments play in the architectural landscape of a city? What design restrictions are posed by these types of institutions? How are abstract and representational forms employed in the memorialization process? Through an examination of these questions, students will gain an understanding of diverse built environments within an era marked by fundamental shifts in (post)modernism, technology, and aesthetics. To this end, emphasis will be placed on the ways in which memory and place are conceived within particular cultural and intellectual circumstances.
ARTH257 Architecture of the Asia/Pacific
This course will interrogate 20th and 21st century architecture of the Asia Pacific. By concentrating on specific episodes of architectural production and urban development in the region, this course seeks to examine varying notions of the modern as it shifts across space and time. Considering theoretical and concrete modes by which modern societies and built environments have operated in tandem to create aesthetic, socio-political, economic, and technological networks will serve to frame the ways by which the Asia Pacific has come to be regarded as the crossroads for dynamic and experimental approaches to contemporary architecture.
ARTH259 Modern & Contemporary Architecture
A thematic course on the history, theory, and practice of Modern Architecture in Europe and the United States from the 1780s to the later 20th century. Themes we will explore include the following: architectural theory and design as social planning; competing notions of public and private space; modernist architectural theory and urban development; rural and urban ideologies in American architecture; the changing image of the architect in the 19th and 20th centuries; architecture and urbanism in Southern California. Coursework will include a required half-day field trip.
ARTH390 Seminar in Art History
Colonial Urbanism 
In this course, we will examine the spatial legacy of colonial cities. The focus is on colonial urban spaces and architectural projects that were manifestations of the political, economic, and social relationships between the colonizers and the colonized. In relation, the role of imperialism - as it transpired in both the colonies and colonizing societies of Europe and the United States - will reveal the ways in which the imperial imagination was visible in physical form. Through a range of case studies, including sites in former European and American colonies of Asia and the Pacific, as well as former imperial centers, such as London and Washington D.C., students will develop a theoretical toolkit for the critical study of urban colonial environments. 
Building the 'American Pacific'
This course examines modern and contemporary architecture of the 'American Pacific.' Students will investigate the historical, social, cultural, political, climactic, and technological factors that have influenced the development of architecture in Hawai'i, American S?moa, and Guam. Theoretical examinations about Uunited States empire, race, and sovereignty allow us to challenge the very notion of an 'American Pacific' and frame our study of architecture as a complex interplay of evolving beliefs and meanings. An examination of Pacific Island spaces/places and their relationship to artistic endeavors by artists and architects reveal the ways in which indigenous and foreign identities influence the built environment. Students will engage with interdisciplinary and intersectional scholarship as we consider the architectural legacy of American expansion in the Pacific.