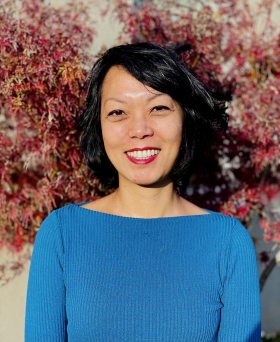 Assistant Professor, Urban and Environmental Policy
B.S., Cornell University; J.D., University of California, Hastings College of the Law; LLM, Ph.D., University of London
Hours:
Tuesdays 1:30-3pm PT, Wednesdays 11:30-1pm PT
J. Mijin Cha's research and teaching interests are in the areas of climate justice, environmental justice, labor movements, and the intersection of labor and climate justice. Dr. Cha is fellow at Cornell University's Worker Institute, where she works on the Labor Leading on Climate initiative. Her recent research is on "just transition," how to transition workers and communities equitably into a low-carbon future. Dr. Cha is on the board of the Center on the Race, Poverty, and the Environment.
Recently published!
J. Mijin Cha, "The Fight for Climate Justice in the Biden-Harris Administration," Global Dialogue, Vol. 11, issues 1 (Feb 2021).
J. Mijin Cha, "A just transition for whom? Politics, contestation, and social identity in the disruption of coal in the Powder River Basin", Energy Research and Social Science, Volume 69, (November 2020), 101657.
J. Mijin Cha, "Just Transition: Tools for Protecting Workers and Their Communities at Risk of Displacement Due to Climate Policy," in Putting California on the High Road: A Jobs and Climate Action Plan for 2030, a report in fulfillment CA AB 398 (Sept., 2020).
J. Mijin Cha, Madeline Wander, and Manuel Pastor, "Environmental Justice, Just Transition, and a Low-Carbon Future for California," Environmental Law Reporter, ELR 10216 (March, 2020), available here, or I can send you a PDF.
"We the People: Voting Rights, Campaign Finance, and Election Reform," in We Own the Future: Democratic Socialism- American Style, (New Press, 2020), available here.
"Learning from the New York Experiment: Managing a Just Transition to a Low-Carbon Future," in the Public Administration Review online symposium (June, 2019) on the Green New Deal.
"From the Dirty Past to the Clean Future: Addressing historic energy injustices with a just transition to a low-carbon future," in the first edition, Routledge Handbook of Climate Justice (Routledge, 2018), available here.
J. Mijin Cha, Jane Holgate, and Karel Yon, "Emergent Cultures of Activism: Young People and the Building of Alliances Between Unions and Other Social Movements," Work and Occupations, First Published July 4, 2018. Available here, or email me and I can send you a PDF.
"A Just Transition: Why Transitioning Workers into a New Clean Energy Economy Should Be at the Center of Climate Change Policies," 29 Fordham Envtl. L. Rev. 196 (2017).
"Labor Leading on Climate: A Policy Platform to Address Rising Inequality and Rising Sea Levels in New York State," 34 Pace Envtl L. Rev. 423 (2017)
Recent Commentary
Recent Reports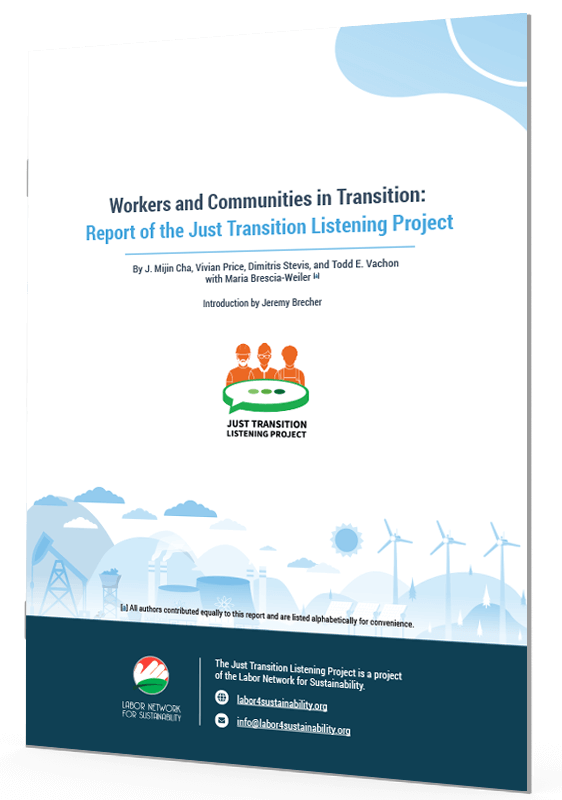 Workers and Communities in Transition: Report of the Just Transition Listening Project
April 2021
As part of the Just Transition Listening Project, convened by the great Labor Network for Sustainability, we interviewed over 100 people who have either experienced transition or who face transition. This effort is the groundbreaking both in the scale of the effort and also the centering the voices of those directly impacted by transition. The report is broken down into three sections: problem, process, and pathways. The problem section looks at the challenges that arise from transition, including the long history of unjust transition. The process section analyzes how labor comes together and how labor, climate, community, EJ, Indigenous, and other interests come together. The final section presents ways to advance a just transition. The report concludes with a set of policy recommendations necessary for not just the energy transition but also for a just future. I'm honored to have worked with my brilliant colleagues at Colorado State University, Rutgers University, and CSU-Dominguez Hills.
Click here for the full report.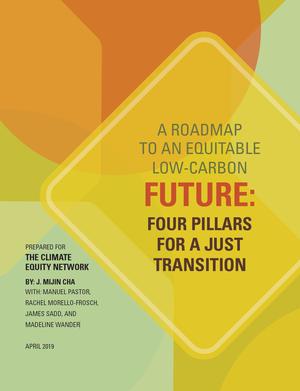 A Roadmap to an Equitable Low-Carbon Future: Four Pillars for a Just Transition
April 23, 2019
By: J. Mijin Cha
With: Manuel Pastor, Rachel Morello-Frosch, James Sadd, and Madeline Wander
Prepared for the Climate Equity Network
In the face of the looming climate crisis, any chance of staving off even worst impacts from climate change depends on significant reductions in GHG emissions and a move from a fossil fuel-based economy to a low-carbon economic future. California is already on the path to a low-carbon future and targeted, deliberate policy implementation will move the state toward an equitable one.
Click here for the full report.