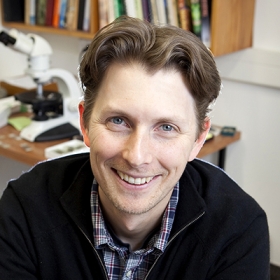 B.A., Whitman College; Ph.D. Stanford University
Office
Hameetman Science Center 220
Hours
Currently on sabbatical
Chris Oze teaches Introductory Geology, Field Geology, Hard Rock Geology and Geochemistry.
My research has revolved around ultramafic and mafic rocks and the processes that these rocks undergo as they make their way to the surface.  My research objectives are broadly divided into two categories:
(1) To investigate the geochemical and biogeochemical evolution of a variety of metals (e.g., Cr, Ni, Au, Ag), isotopes (e.g., C, O, Sr, Os), and gases (e.g., CO2, H2O, CH4) with regards to how they influenced and/or are cycled by magmatic, metamorphic, hydrothermal, and/or weathering processes and how they may 'contribute' or 'fit' in relation to larger geological and planetary processes such as mantle dynamics, magmatism, and climate change.
(2) To examine the abiotic genesis of elemental hydrogen (H2), methane (CH4), and other organic species via water-rock interactions in a variety of hydrothermal, volcanic, and groundwater systems in order to assess key steps potentially leading to: i) the discovery of new energy resources, ii) carbon sequestration and iii) the origins of life through laboratory studies, chemical modeling, and field data.